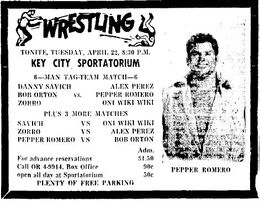 This card took place at the Key City Sportatorium in Abilene, Texas on Tuesday, April 22, 1958.
Results[]
Alex Perez vs. Joe Blanchard.
Ricky Romero defeated Bob Orton via disqualification.
Danny Savich defeated Oni Wiki Wiki.
Danny Savich & Joe Blanchard & Bob Orton defeated Oni Wiki Wiki & Ricky Romero & Alex Perez in three falls.
Notes[]
It was reported that Zorro had been unmasked as Joe Blanchard earlier in the week in San Angelo, TX.