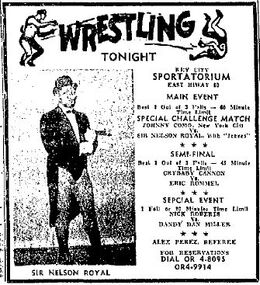 This card was held at the Key City Sportatorium in Abilene, Texas on Monday, April 9, 1962.
Results[]
Dan Miller defeated Nick Roberts (11:00).
Crybaby Cannon fought Eric Rommel to a draw (45:00).
Nelson Royal defeated Johnny Como.

Royal pinned Como (8:00).
Como pinned Royal (1:00).
Royal pinned Como (7:00).
Notes[]