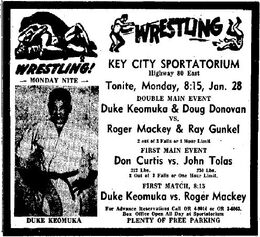 This card took place at the Key City Sportatorium in Abilene, Texas on Monday, January 28, 1957.
Results
Roger Mackay fought Duke Keomuka to a draw (15:00).
Don Curtis fought John Tolos to a no contest in three falls.
Roger Mackay & Ray Gunkel defeated Duke Keomuka & Doug Donovan in three falls.
Notes
The referee was Ray Clements.