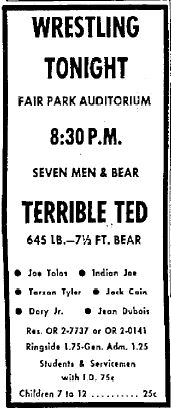 This card took place at the Fair Park Auditorium in Abilene, Texas on Monday, June 21, 1965.
Results
[
]
Tarzan Tyler defeated Gene DuBois.
John Tolos defeated Indian Joe in three falls.
Dory Funk, Jr. defeated Mike DiBiase in three falls.
Notes
[
]
There is no mention of Terrible Ted in the results, although his trainer, Gene DuBois, is on the card.