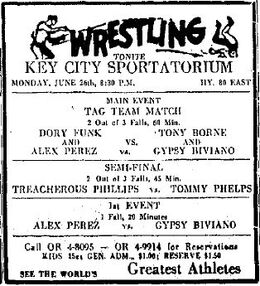 This card took place at the Key City Sportatorium in Abilene, Texas on Monday, June 26, 1961.
Results
[
]
Alex Perez vs. Gypsy Biviano.
Treach Phillips vs. Tommy Phelps.
Dory Funk, Sr. & Alex Perez vs. Tony Borne & Gypsy Biviano.
Notes
[
]
The report for the next week's card describes Gypsy Biviano as making his début, so it is possible did not appear as announced on this date.