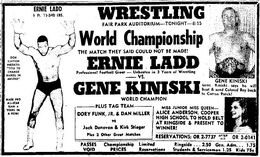 This card took place at the Fair Park Auditorium in Abilene, Texas on Monday, May 23, 1966.
Results
[
]
Jack Donovan fought Dan Miller to a draw (10:00).
Dory Funk, Jr. & Dan Miller defeated Jack Donovan & Kurt Steiger in three falls.
World Heavyweight Champion Gene Kiniski fought Ernie Ladd to a draw.

Kiniski won the first fall with a back breaker (23:00).
Ladd won the second fall with a foot stomp and body smash.
Both men were disqualified for fighting outside of the ring and with the referee during the third fall.
Notes
[
]