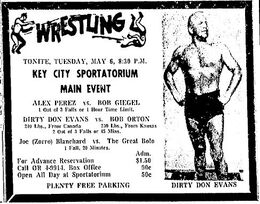 This card took place at the Key City Sportatorium in Abilene, Texas on Tuesday, May 6, 1958.
Results
[
]
Joe Blanchard fought The Great Bolo to a draw (20:00).
Bob Orton defeated Don Evans.

Evans won the first fall with a rolling arm lock.
Orton won the second fall with a reverse shoulder pin.
Orton won the third fall with a neck breaker.

Alex Perez defeated Bob Geigel.

Geigel pinned Perez to win the first fall.
Perez won the second fall with a back breaker (0:45).
Geigel was disqualified for throwing Perez over the top rope in the third fall.
Notes
[
]