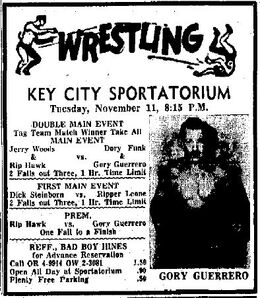 This card took place at the Key City Sportatorium in Abilene, Texas on Tuesday, November 11, 1958.
Results
[
]
Gory Guerrero defeated Rip Hawk with a somersault stomp (19:00).
Dick Steinborn defeated Ripper Leone.

Steinborn took the first fall with a Japanese crab (20:35).
Steinborn won the second fall with an abdominal stretch (7:08).

Dory Funk, Sr. & Gory Guerrero defeated Rip Hawk & Jerry Woods.

Funk subdued Woods with judo chops and a body press to win the first fall (10:40).
Woods evened the count against Funk with a spinning toe hold (3:25).
Guerrero pinned Hawk after a somersault stomp (15:10).
Notes
[
]
The referee was Bad Boy Hines.