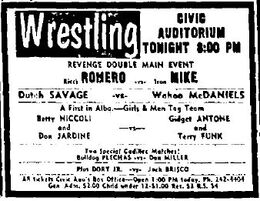 This card took place at the Civic Auditorium in Albuquerque, New Mexico on Sunday, April 10, 1966.
Results
[
]
Dan Miller defeated Danny Plechas.
Dory Funk, Jr. defeated Jack Brisco.
Terry Funk & Jean Antone defeated Don Jardine & Betty Niccoli (17:00).
Dutch Savage defeated Wahoo McDaniel.
Rocky Mountain Heavyweight Champion Ricky Romero fought Mike DiBiase to a draw (60:00).
Notes
[
]
The attendance was listed as "nearly 2,600".