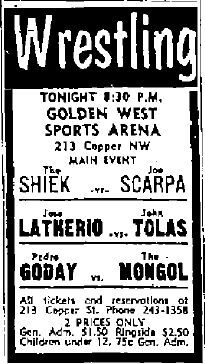 This card took place at the Golden West Sports Arena in Albuquerque, New Mexico on Monday, April 26, 1965.
Results
[
]
The Mongol defeated Pedro Godoy with a bear hug.
Jose Lothario defeated John Tolos in three falls.
The Sheik defeated Joe Scarpa in three falls.
Notes
[
]
The Sheik used a fireball to win the main event, and had to escorted from the ring by police and officials to protect him from angry fans.
The referee was Jack Cain.
The attendance was listed as "a sellout crowd of 600".