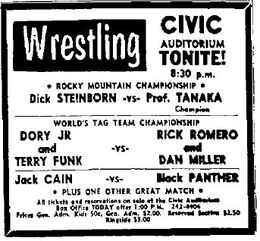 This card took place at the Civic Auditorium in Albuquerque, New Mexico on Sunday, December 4, 1966.
Results
[
]
Jack Cain vs. The Black Panther.
World Tag Team Champions Dory Funk, Jr. & Terry Funk vs. Ricky Romero & Dan Miller.
Rocky Mountain Heavyweight Champion Prof. Tanaka vs. Dick Steinborn.
Notes
[
]