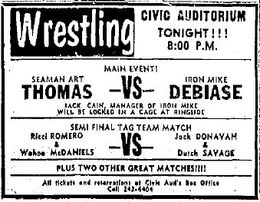 This card took place at the Civic Auditorium in Albuquerque, New Mexico on Monday, January 24, 1966.
Results
Terry Funk pinned Jack Miller.
Jack Cain pinned Vern Statler.
Ricky Romero & Wahoo McDaniel fought Jack Donovan & Dutch Savage to a draw in three falls.
Art Thomas defeated Mike DiBiase in three falls.
Notes
The attendance was listed as "nearly 1,700".
Art Thomas won the right to challenge Mike DiBiase for the Rocky Mountain Heavyweight Title.