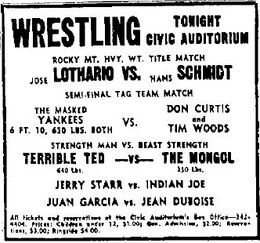 This card took place at the Civic Auditorium in Albuquerque, New Mexico on Monday, June 7, 1965.
Results[]
Juan Garcia defeated Gene DuBois with an abdominal stretch.
The Masked Yankees defeated Don Curtis & Tim Woods (32:00).
Terrible Ted defeated The Mongol via countout.
Rocky Mountain Heavwyeight Champion Jose Lothario defeated Hans Schmidt in three falls.
Notes[]
The attendance was listed as "nearly 1,000".