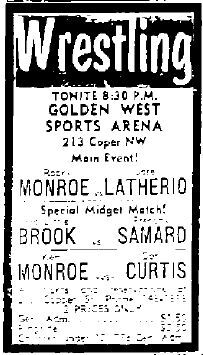 This card took place at the Golden West Sports Arena in Albuquerque, New Mexico on Monday, March 15, 1965.
Results
[
]
Rocky Monroe vs. Don Curtis.
Lord Littlebrook defeated Frenchy Samard in three falls.
Jose Lothario defeated Ken Monroe via disqualification in three falls.
Notes
[
]
The attendance was listed as "more than 350".
The result of the opening bout was not listed and the competitors are unconfirmed. Rocky Monroe was on hand, as he interfered in the main event causing the disqualification.