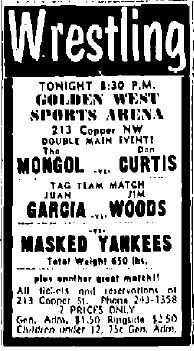 This card took place at the Golden West Sports Arena in Albuquerque, New Mexico on Monday, May 31, 1965.
Results
Tim Woods defeated Mighty Yankee #?.
The Mongol defeated Don Curtis in three falls.
The Mighty Yankees defeated Juan garcia & Tim Woods in two straight falls.
Notes
The attendance was listed as "nearly 400 fans".