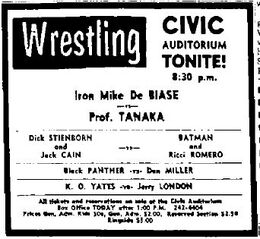 This card took place at the Civic Auditorium in Albuquerque, New Mexico on Sunday, November 20, 1966.
Results
[
]
K.O. Yates vs. Jerry London.
The Black Panther vs. Dan Miller.
Dick Steinborn & Jack Cain vs. Ricky Romero & Batman.
Mike DiBiase vs. Prof. Tanaka.
Notes
[
]
Prof. Tanaka is listed in the preview as "recently dethroned region heavyweight champion". Since Tanaka was again champion by the next week's card, for this to be correct, there would have to have been title changes outside of Albuquerque.