(One intermediate revision by the same user not shown)
Line 9:
Line 9:
 
 
 

==Notes==

 

==Notes==

 
+

*Below is the newspaper preview where the journalist has mistaken a handicap match for a wrestler named "The Handy Cop".

 
+

[[File:19661106a.jpg]]
---
Latest revision as of 11:51, 29 October 2010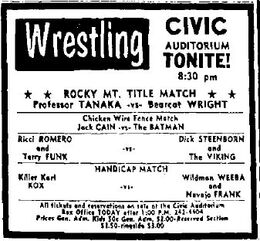 This card took place at the Civic Auditorium in Albuquerque, New Mexico on Sunday, November 6, 1966.
Results[]
Killer Karl Kox vs. Wildman Wehba & Navajo Frank.
Terry Funk & Ricky Romero vs. Dick Steinborn & The Viking.
Chicken Wire Fence Match: Jack Cain vs. Batman.
Rocky Mountain Heavyweight Champion Prof. Tanaka vs. Bearcat Wright.
Notes[]
Below is the newspaper preview where the journalist has mistaken a handicap match for a wrestler named "The Handy Cop".