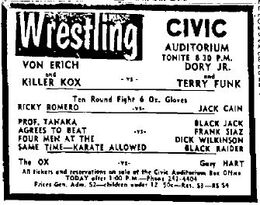 This card took place at the Civic Auditorium in Albuquerque, New Mexico on Sunday, September 18, 1966.
Results
[
]
The Ox vs. Gary Hart.
Prof. Tanaka vs. Black Jack & Frank Saiz & Dick Wilkinson & The Black Raider.
Boxing: Ricky Romero vs. Jack Cain.
Fritz Von Erich & Killer Karl Kox vs. Dory Funk, Jr. & Terry Funk.
Notes
[
]