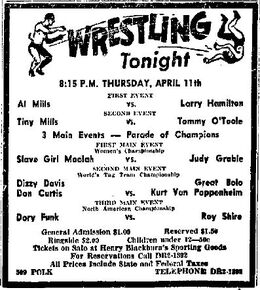 This card took place at the Sports Arena in Amarillo, Texas on Thursday, April 11, 1957.
Results
[
]
Al Mills defeated Larry Hamilton.
Tiny Mills defeated Tommy O'Toole.
World Woemen's Champion Slave Girl Moolah defeated Judy Grable.
Don Curtis & Dizzy Davis defeated The Great Bolo & Kurt Von Poppenheim in three falls to win the World Tag Team Title.
Roy Shire defeated Dory Funk, Sr. in two straight falls to win the North American Heavyweight Title.
Notes
[
]
Going into this card, the World Tag Team Champions were Dizzy Davis & The Great Bolo.