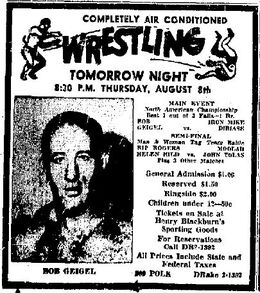 This card took place at the Sports Arena in Amarillo, Texas on Thursday, August 15, 1957.
Results
Sonny Myers fought Tokyo Joe to a draw.
Rip Rogers defeated Roberto Pico.
The Great Bolo fought Enrique Torres to a double-disqualification.
John Tolos & Slave Girl Moolah defeated Rip Rogers & Helen Hild in three falls.
Mike DiBiase defeated Bob Geigel in three falls when Geigel could not return for the third fall to win the North American Heavyweight Title.
Notes