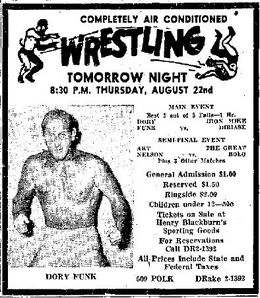 This card took place at the Sports Arena in Amarillo, Texas on Thursday, August 22, 1957.
Results
[
]
Tommy Phelps defeated George Overhuls.
Bob Geigel defeated Rip Hawk.
Enrique Torres & Ricky Romero defeated Roberto Pico & Lou Plummer vua disqualification.
Art Nelson defeated The Great Bolo.
Dory Funk, Sr. defeated Mike DiBiase in two straight falls.
Notes
[
]