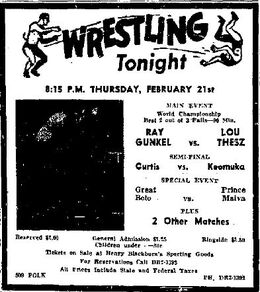 This card took place at the Sports Arena in Amarillo, Texas on Thursday, February 21, 1957.
Results
[
]
John Tolos defeated Roger Mackay.
Roger Mackay & Dizzy Davis & Rip Rogers defeated John Tolos & Chris Tolos & Doug Donovan.
The Great Bolo (w/ Leo Newman) defeated Prince Maivia via count out.
Don Curtis defeated Duke Keomuka when the time limit expired in the second fall, having won the first.
World Heavyweight Champion Loe Thesz defeated Ray Gunkel in three falls.
Notes
[
]
A photograph from the main event: