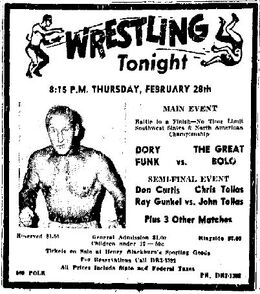 This card took place at the Sports Arena in Amarillo, Texas on Thursday, February 28, 1957.
Results
[
]
Roger Mackay defeated Doug Donovan.
Ethel Johnson & Lula Mae Provo defeated Babs Wingo & Louise Green.
Rip Rogers defeated Duke Keomuka
John Tolos & Chris Tolos defeated Ray Gunkel & Don Curtis via disqualification in three falls.
Dory Funk, Sr. defeated The Great Bolo (w/ leo Newman) to win the Southwest States Heavyweight Title and the North American Heavyweight Title.
Notes
[
]