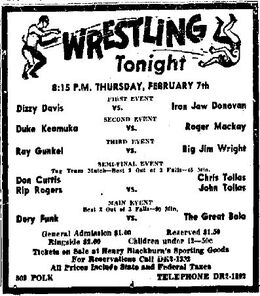 This card took place at the Sports Arena in Amarillo, Texas on Thursday, February 7, 1957.
Results
Dizzy Davis defeated Doug Donovan.
Duke Keomuka defeated Roger Mackay.
Ray Gunkel defeated Jim Wright.
Don Curtis & Rip Rogers defeated John Tolos & Chris Tolos via judge's decision in three falls.
The Great Bolo (w/ Leo Newman) defeated Dory Funk, Sr. in three falls to win the North American Heavyweight Title.
Notes
After the victory by Ray Gunkel, the ring announcer read a telegram from former world heavyweight boxing champion Jack Dempsey saying that he and Lou Thesz, who he managed, would appear in Amarillo on February 21 to defend Thesz' World Heavyweight Title against Gunkel.