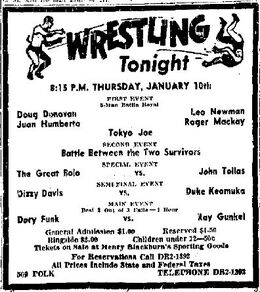 This card took place at the Sports Arena in Amarillo, Texas on Thursday, January 10, 1957.
Results
[
]
Roger Mackay and Juan Humberto won a 5-man Battle Royal (other particpants: Doug Donovan, Leo Newman, Tokyo Jeo).
Roger Mackay defeated Juan Humberto.
John Tolos defeated The Great Bolo.
Duke Keomuka defeated Dizzy Davis when Davis could not return for the second fall having lost the first.
Ray Gunkel defeated Dory Funk, Sr. via reverse decision in three falls.
Notes
[
]
The referee was Tommy Phelps.