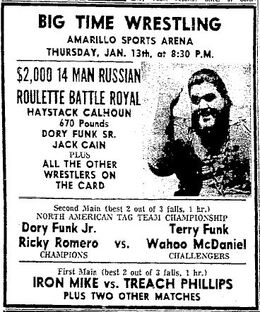 This card took place at the Sports Arena in Amarillo, Texas on Thursday, January 13, 1966.
Results
[
]
Jack Donovan defeated Tokyo Tom with a press (7:55).
Dutch Savage defeated The Lawman with a head stomp (3:22).
Mike DiBiase defeated Treach Phillips.

DiBiase used a back breaker off the ropes to take the first fall (9:50).
Phillips evened things up with a press in the second fall (2:18).
DiBiase used a knee drop off the ropes to win the third fall (0:32).

Terry Funk & Wahoo McDaniel defeated Dory Funk, Jr. & Ricky Romero to win the North American Tag Team Title.

Dory Funk, Jr. stopped Terry Funk with a spinning toe hold to win the first fall (10:00).
McDaniel pinned Romero with a reverse back slide to take the second fall (14:50).
Romero was counted out having been butted in the stomach by McDaniel in the third fall (1:17).

Haystack Calhoun won a Battle Royal. (Order of elimination: Dutch Savage, Jack Donovan, Tokyo Tom, Wahoo McDaniel, Treach Phillips, The Lawman, Doug Gilbert, Dory Funk, Jr., Jack Cain, Mike DiBiase)
Notes
[
]
Despite the finish of the main event not being by pinfall or submission, the title did change hands. Dory Funk, Jr. was quoted as saying: "More power to Terry and Wahoo. They took the North American Tag Team Championship from us fair and square."
There may have been up three others in the Battle Royal, since it was advertised as a 14-man event.