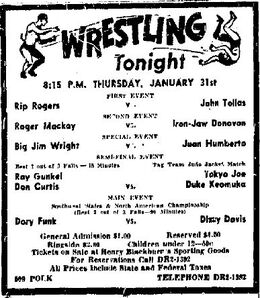 This card took place at the Sports Arena in Amarillo, Texas on Thursday, January 31, 1957.
Results
[
]
Roger Mackay defeated Doug Donovan via disqualification.
John Tolos fought Rip Rogers to a draw.
Jim Wright defeated Juan Humberto.
Ray Gunkel & Don Curtis defeated Duke Keomuka & Tokyo Joe in three falls.
Dory Funk, Sr. defeated Dizzy Davis when Davis could not return for the third fall to win the North American Heavyweight Title.
Notes
[
]