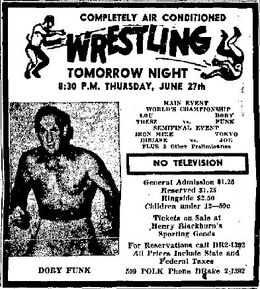 This card took place at the Fair Park Coliseum in Amarillo, Texas on Thursday, June 27, 1957.
Results
[
]
Thor Hagen defeated Rocky Columbo.
Rip Rogers & Sonny Myers defeated The Great Bolo & Ivan Kola.
Bob Geigel defeated Bulldog Plechas.
Mike DiBiase defeated Tokyo Joe when the referee stopped the match due to a cut on Joe's head.
World Heavyweight Champion Lou Thesz fought Dory Funk, Sr. (w/ Ed "Stangler" Lewis) to a draw.

Funk won the first fall with the spinning toe hold.
Funk was disqualified for applying the spinning toe hold outside of the ring in the second fall.
Thesz was unable to return for the third fall and the judges ruled the match a draw.
Notes
[
]
The crowd was listed as "an estimated 8,000" with "approximately 2,000 more turned away".
The referee for the main event was Don Curtis.