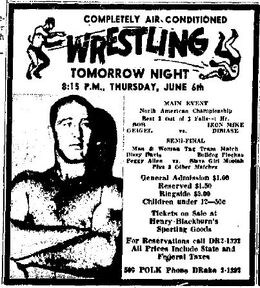 This card took place at the Sports Arena in Amarillo, Texas on Thursday, June 6, 1957.
Results
[
]
Rip Rogers defeated Tony Morelli.
Sonny Myers defeated Rocky Columbo.
Don Curtis fought Major Ray Piret to a draw.
Bob Geigel defeated Mike DiBiase in three falls.
Bulldog Plechas & Slave Girl Moolah defeated Dizzy Davis & Peggy Allen in three falls.
Notes
[
]