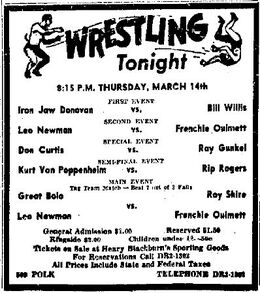 This card took place at the Sports Arena in Amarillo, Texas on Thursday, March 14, 1957.
Results
[
]
Doug Donovan defeated Bill Willis.
Leo Newman fought Frenchy Ouimett to a double-disqualification.
Don Curtis defeated Ray Gunkel.
Rip Rogers defeated Kurt Von Poppenheim.
Roy Shire & Frenchy Ouimett defeated The Great Bolo & Leo Newman in three falls.
Notes
[
]
The attendance was listed as a "near capacity crowd".
Don Curtis earned the chance to face World Heavyweight Champion Lou Thesz.
Bill Willis was listed as a former Mr. Texas 1955.