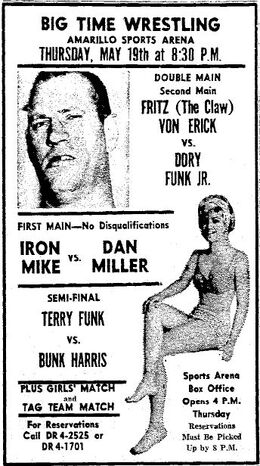 This card took place at the Sports Arena in Amarillo, Texas on Thursday, May 19, 1966.
Results
[
]
Ricky Romero & Alex Perez defeated Jack Donovan & Kurt Steiger when Romero pinned Steiger after a cannonball (9:50).
Kay Noble defeated Jean Antone with a press (5:20).
Terry Funk pinned Krusher Kowalski with a press (6:35).
Dan Miller defeated Mike DiBiase (w/ Jack Cain).

Miller won the first fall with an airplane spin (10:30).
DiBiase took the second fall with a series of knee drops off the ropes (5:39).
Miller pinned DiBiase with a press (0:41).

Fritz Von Erich defeated Dory Funk, Jr.

Von Erich took the first fall with the iron claw hold (8:45).
Funk won the second fall with the spinning toe hold (6:06).
Von Erich pinned Funk to win the third fall (4:22).
Notes
[
]
Krusher Kowalski was a substitute for Bunk Harris. It was announced that "Dory Funk, Sr. had whipped Harris so badly in a locker-room fight that he couldn't appear".