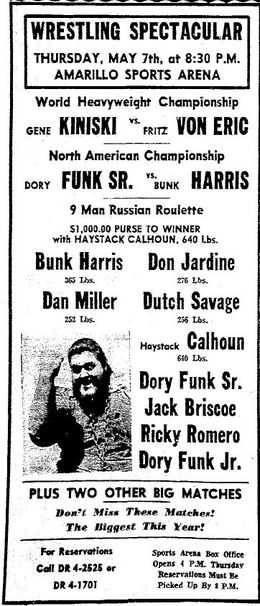 This card took place at the Sports Arena in Amarillo, Texas on Thursday, May 5, 1966.
Results
[
]
Ricky Romero defeated Jack Brisco with a cradle (8:35).
Dan Miller defeated Don Jardine via disqualification when Dutch Savage interfered.
Dory Funk, Jr. defeated Dutch Savage via disqualification when Don Jardine interfered.
North American Heavyweight Champion Dory Funk, Sr. defeated Bump Harris.

Funk used the spinning toe hold to win the first fall (6:05).
Funk pinned Harris to win the second fall (6:01).

World Heavyweight Champion Gene Kiniski defeated Fritz Von Erich.

Von Erich won the first fall with an iron claw hold (6:35).
Kiniski won the second fall with a back breaker (0:29).
Von Erich was counted out of the ring in the third fall (6:17).

A 9-man Battle Royal ended without a winner when Haystack Calhoun and Bump Harris were both eliminated simultaneously (order of elimination: Dory Funk, Sr., Dory Funk, Jr., Jack Brisco, Dutch Savage, Don Jardine, Ricky Romero, Dan Miller).
Notes
[
]
The advert above gives the incorrect date of May 7 for this card. This was a misprint.
The attendance was listed as "a near capacity crowd".
Haystack Calhoun and Bump Harris would meet the following week for the $1,000 winner's purse for the Battle Royal.