Line 1:
Line 1:
 

[[File:19571114.jpg|thumb|260px|right]]

 

[[File:19571114.jpg|thumb|260px|right]]

−

This card took place at the Sports Arena in Amarillo, Texas on Thursday, November 7, 1957.

+

This card took place at the Sports Arena in Amarillo, Texas on Thursday, November , 1957.

 
 
 

==Results==

 

==Results==
---
Latest revision as of 09:05, 24 November 2010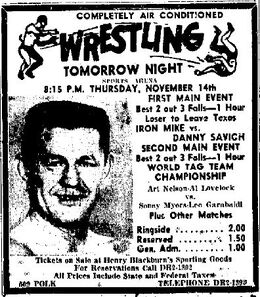 This card took place at the Sports Arena in Amarillo, Texas on Thursday, November 14, 1957.
Results[]
Gory Guerrero defeated Dick Raines via default.
Bob Geigel defeated Hans Schanbel.
Rip Rogers fought Roger Mackay to a draw when Mackay was injured and Rogers refused to accept the victory.
Mike DiBiase defeated Danny Savich in three falls.
Sonny Myers & Leo Garibaldi defeated Al Lovelock & Art Nelson in three falls to win the World Tag team Title.
Notes[]
The referees were Tommy Phelps & Big Train Clements.
Roger Mackay was a substitute for Tokyo Joe.