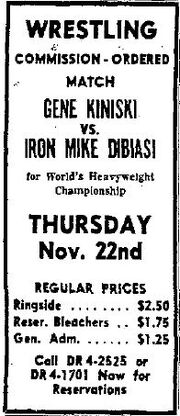 This card took place at the Sports Arena in Amarillo, Texas on Thursday, November 22, 1962.
Results
[
]
Killer Karl Kox pinned Mr. Kleen after a brain buster (7:50).
Joe Scarpello fought Dory Funk, Sr. to a draw.
Cowboy Carlson & Ricky Romero defeated Jim Dalton & Jack Dalton when Carlson pinned Jim Dalton (10:05).
Bob Ellis pinned The Viking after a bulldog headlock (8:00).
World Heavyweight Champion Gene Kiniski defeated Mike DiBiase.

Kiniski won the first fall with a back breaker (14:35).
DiBiase pinned Kiniski after a knee drop off the top rope (2:30).
Kiniski pinned DiBiase to win the third fall (4:40).
Notes
[
]