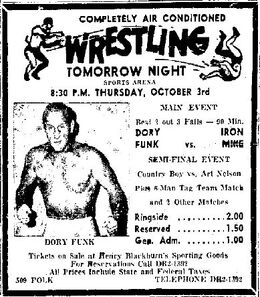 This card took place at the Sports Arena in Amarillo, Texas on Thursday, October 3, 1957.
Results
John Tolos defeated Dick Raines.
Roger Mackay defeated Rip Hawk.
Roger Mackay & John Tolos & Danno O'Shocker defeated The Great Bolo & Dick Raines & Rip Hawk in three falls.
Country Boy Calhoun defeated Art Nelson via disqualification.
Dory Funk, Sr. fought Mike DiBiase to a draw via judges' decision when the time limit expired (60:00).
Notes
Due to the draw in the main event, the North American Heavyweight Title remained held-up.