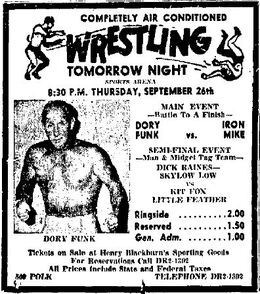 This card took place at the Sports Arena in Amarillo, Texas on Thursday, September 26, 1957.
Results
[
]
Country Boy Calhoun defeated Tommy Phelps.
Babs Wingo defeated Ethel Johnson.
North American Heavyweight Champion Mike DiBiase fought Dory Funk, Sr. to a no contest.
Notes
[
]
The referee was Rip Hawk, although his bias shown towards Mike DiBiase in the main event caused him to be banned from refereeing for life in the state of Texas.
The North American Heavyweight Title was held-up due to the controversial ending of the main event.
The newspaper report does no mention the scheduled match between Dick Raines & Sky Low Low and Kit Fox & Little Feather, but in a preview for the next week's card, it is mentioned that Raines had been victorious.