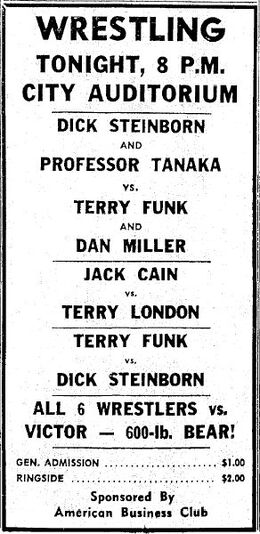 This card took place at the Municipal Auditorium in Big Spring, Texas on Friday, December 9, 1966.
Results
[
]
Dan Miller fought Prof. Tanaka to a draw (15:00).
Bob Boyer pinned Jack Cain (14:45).
Terry Funk & Dan Miller defeated Prof. Tanaka & Dick Steinborn.

Steinborn pinned Funk to win the first fall (6:50).
Funk used the spinning toe hold on Steinborn to win the second fall (12:20).
Miller pinned Tanaka to win the third fall (4:30).

Prof. Tanaka won a 6-man Battle Royal (order of elimination: Bob Boyer, Jack Cain, Dan Miller, Terry Funk, Dick Steinborn).
Notes
[
]
Victor, a wrestling bear, was scheduled to compete in the Battle Royal, but after a brief engagement with Terry Funk, the bear retreated to its cage and took no further part in the event.