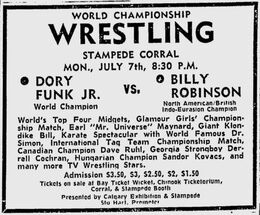 This card took place at the Stampede Corral in Calgary, Alberta on Monday, July 7, 1969.
Results
[
]
Judy Grable defeated Jan Case.
Sandor Kovacs fought Marcel Trudeau to a draw.
Earl Maynard defeated Jack Krys.
Klondike Bill defeated Darrel Cochran.
Dave Ruhl defeated Jack Bense.
Bud Osborne & Ray Osborne defeated Clem St. Louis & Jack Pesek to win the International Tag Team Title.
Little Beaver & The Jamaica Kid defeated Sky Low Low & unknown.
World Heavyweight Champion Dory Funk, Jr. fought Billy Robinson to a draw (60:00).

Robinson pinned Funk after a backdrop.
Funk won with the spinning toe hold.
The time limit expired.
Notes
[
]
The attendance was a "near capacity crowd" and "the largest crowd to witness a wrestling card locally for a couple of years".