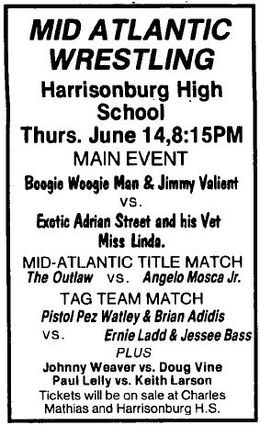 This card took place at the High School in Harrisonburg, Virginia on Thursday, March 22, 1984.
Results
[
]
Paul Kelly vs. Keith Larson.
Pez Whatley & Brian Adidas vs. Ernie Ladd & Jesse Bass.
Mid-Atlantic Heavyweight Champion The Outlaw vs. Angelo Mosca, Jr.
Jimmy Valiant vs. Adrian Street (w/ Miss Linda).
Notes
[
]