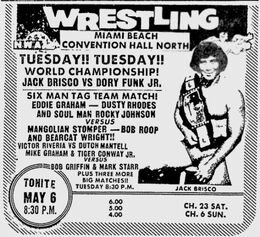 This card took place at the Convention Hall North in Miami Beach, Florida on Tuesday, May 6, 1975.
Results
[
]
Mike Graham & Tiger Conway, Jr. vs. Bob Griffin & Mark Starr.
Victor Rivera vs. Dutch Mantel.
Eddie Graham & Dusty Rhodes & Rocky Johnson vs. The Mongolian Stomper & Bob Roop & Bearcat Wright.
World Heavyweight Champion Jack Brisco vs. Dory Funk, Jr.
Notes
[
]