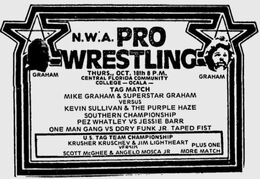 This card took place at the Central Florida Community College in Ocala, Florida on Thursday, October 18, 1984.
Results
[
]
Krusher Kruschev & Jim Neidhart vs. Scott McGhee & Angelo Mosca, Jr.
Taped Fist Match: One Man Gang vs. Terry Funk.
Pez Whatley vs. Jesse Barr.
Mike Graham & Billy Graham vs. Kevin Sullivan & The Purple Haze.
Notes
[
]