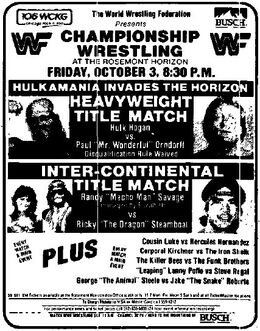 This card took place at the Horizon in Rosemont, Illinois on Friday, October 3, 1986.
Results
[
]
George Steele vs. Jake Roberts.
Lanny Poffo vs. Steve Regal.
B. Brian Blair & Jim Brunzell vs. Terry Funk & Hoss Funk.
Cpl. Kirchner vs. The Iron Sheik.
Cousin Luke vs. Hercules Hernandez.
WWF Intercontinental Heavyweight Champion Randy Savage vs. Ricky Steamboat.
WWF World Heavyweight Champion Hulk Hogan vs. Paul Orndorff.
Notes
[
]