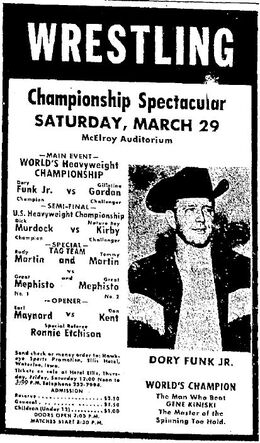 This card took place at the McElroy Auditorium in Waterlooo, Iowa on Saturday, March 29, 1969.
Results
[
]
Earl Maynard fought Don Kent to a draw.
Rudy Martin & Tommy Martin defeated The Great Mephisto #1 & The Great Mephisto #2 via disqualification.
United States Heavyweight Champion Dick Murdoch defeated Bob Brown.
World Heavyweight Champion Dory Funk, Jr. defeated Guillotine Gordon.
Notes
[
]
The attendance was listed as "over 2,500".
Bob Brown was a substitute for Roger Kirby.
The special referee for the card was Ronnie Etchison.