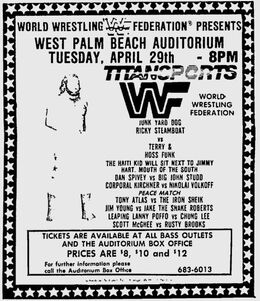 This card took place at the Auditorium in West Palm Beach, Florida on Tuesday, April 29, 1986.
Results
[
]
Scott McGhee vs. Rusty Brooks.
Lanny Poffo vs. Tiger Chung Lee.
Jim Young vs. Jake Roberts.
Tony Atlas vs. The Iron Sheik.
Cpl. Kirchner vs. Nikolai Volkoff.
Dan Spivey vs. John Studd.
Junkyard Dog & Ricky Steamboat (w/ the Haiti Kid) vs. Terry Funk & Hoss Funk (w/ Jimmy Hart).
Notes
[
]